I recently made this very simple, nutritious papaya salad and thought why not share it with you. Many people eat the ripe papaya but aren't aware that the green papaya or semi-ripe ones can be used in recipes. Of course I like ripe papaya and that's mostly how I eat this delicious fruit, however, sometimes I enjoy doing something different with it; and papaya salad is one of the ways I can use it differently.
You could also use it instead of carrot in salad recipes. It is firm and crunchy when unripened.
I hope you will enjoy this as much as I did!
Ingredients:
1 Small Green Papaya
4 Plum or Cherry Tomatoes
1 Small Red Onion
1 Stalk Scallion (Spring Onion)
1/4 Teaspoon Grounded Red Chili Pepper
Juice of 1 Key Lime
Small Pinch of Salt (Optional)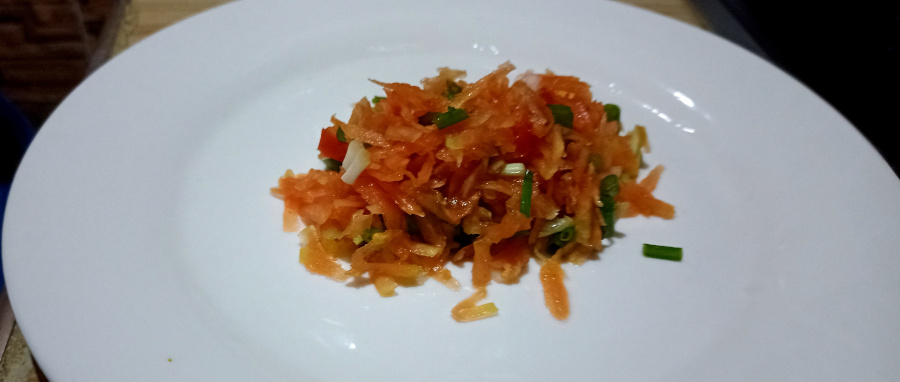 Direction:
1. Wash and peel papaya.
2. Cut into two halves and de-seed.
3. Grate the papaya on the bigger side of the grater and add it to a bowl.
4. Dice tomatoes, red onion and spring onion. Add to the bowl, and mix together well.
5. Add pepper, lime juice and tiny pinch of salt.
6. Combine well, let it sit for a few minutes then serve.
This can be eaten on it's own, as an appetizer or accompanying a main course.
Feel free to add other suitable ingredients as you desire.
This article is copyrighted by Ital is Vital, 2020. Want to re-post this article? Visit our guidelines.
DISCLAIMER: THIS WEBSITE DOES NOT PROVIDE MEDICAL ADVICE
The information, including but not limited to, text, graphics, images and other material contained on this website are for informational purposes only. The purpose of this website is to promote broad consumer understanding and knowledge of various health topics. It is not intended to be a substitute for professional medical advice, diagnosis or treatment. Always seek the advice of your physician or other qualified health care provider with any questions you may have regarding a medical condition or treatment and before undertaking a new health care regimen, and never disregard professional medical advice or delay in seeking it because of something you have read on this website.