Herbs for Circulation
This article is copyrighted by Ital is Vital, 2020. Want to re-post this article? Visit our guidelines.
Herbs for circulation are herbs that will improve blood circulation in the body. Some herbs work on the overall system, while others are more organ specific.
These herbs are some herbs to help with circulation.
Cayenne
Ginger
Hawthorn Berry
Ginko Biloba Leaf
Bilberry Leaf
Kola Nut
Damiana
Butcher's Broom Root
Willow Bark
Rosemary Leaf
Prickly Ash Bark
Schizandra Berry
White Oak Bark
Bayberry Root
Gotu Kola
Yarrow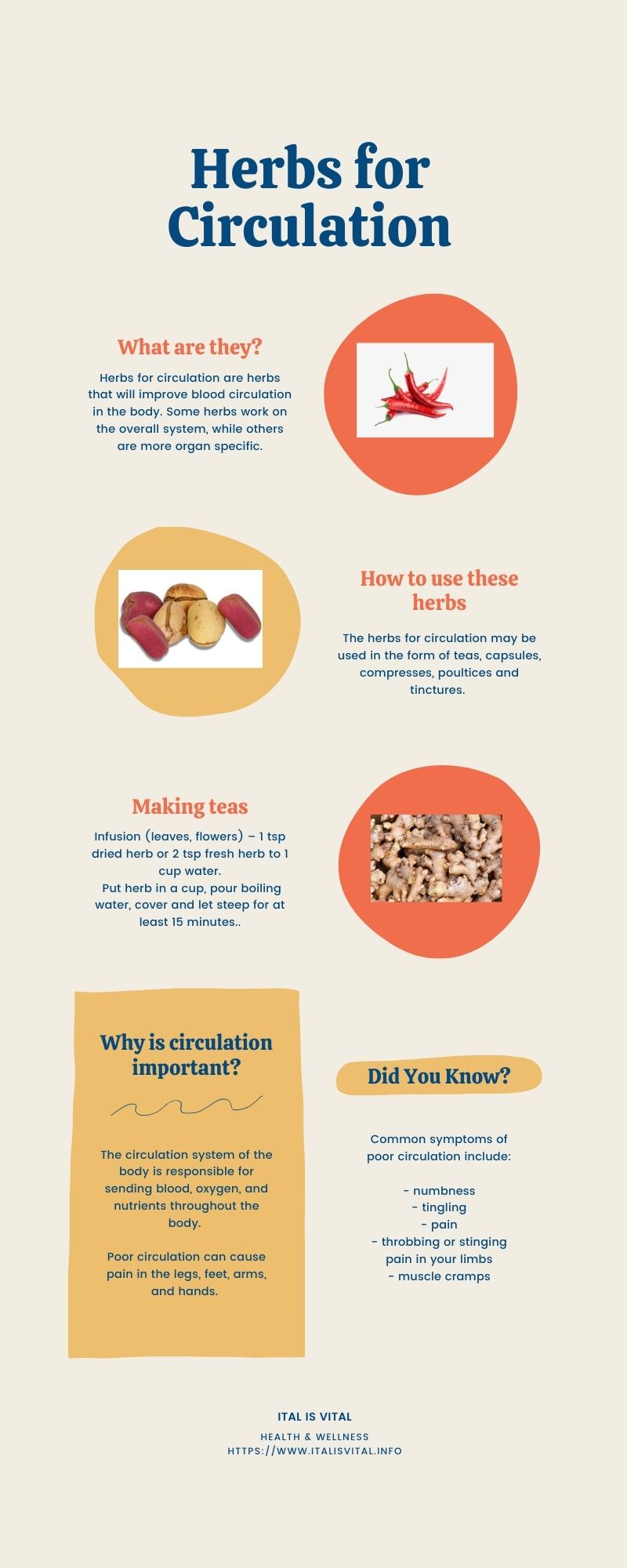 How to use
TEAS
Use herbs individually but preferably in combination.
Infusion (leaves, flowers) – 1 tsp dried herb or 2 tsp fresh herb to 1 cup water.
Put herb in a cup, pour boiling water, cover and let steep for at least 15 minutes.

Decoction (twigs, barks, roots, berries, fruit etc) – 1/2 to 1 ounce ( 1 to 4 tbsp) of dried herb to 1 1/2 pints of cold water. It is best to let the herbs soak and re-hydrate in the water up to 10 hours if you have the time and then slowly bring it up to a boil. Let it simmer 20 to 30 minutes.
CAPSULES
– If you buy (use as per manufacturer's instructions)
– If you want to make your own (Please see instructions here)
COMPRESSES
An infusion or decoction applied externally using a piece of cloth, gauze or towel. Preferably cotton or other natural fibre. Always use natural fibres.
A good way to increase circulation to an area is to place an ice cold wet cloth or ice pack on the area for a 3 to 6 minutes period, followed by an application of the hot compress for 5 to 10 minutes.
Compresses can also be left overnight. However, cover with plastic or another towel to keep it warm or apply a hot water bottle.
POULTICES
Apply the herb directly to the skin. Mash flower or leaves before applying. Powdered roots, barks etc can be mixed with water to make a paste. Apply to the skin and cover with cloth, gauze or towel. The instructions for compresses can be applied.
Recipes
example #1
Prickly Ash Bark
Ginger Root
Make a decoction. Drink or use to make compress.
example #2
Prickly Ash Bark
Ginger Root
Cayenne Pepper
Make a decoction. Drink or use to make compress.
TINCTURES
You can make tinctures with a combinations of some of the above herbs.
Tinctures are liquid extracts made from herbs. They are usually extracted in alcohol but can also be extracted in vegetable glycerine or apple cider vinegar (non-alcohol). Tinctures are usually taken orally (by mouth).
Suggested combination of herbs for tincture (based on Dr Morse's formula):
Ginko Leaf
Butcher's Broom Root
Gotu Kola Herb
Rosemary Leaf
White Oak Bark
Bayberry Root
Schizandra Berry
Bilberry Leaf
Hawthorn Berry
Prickly Ash Bark
31% Alcohol and Distilled Water.
Make Capsules
Combine herbs to make your own capsules.
Ingredients:
20g Prickly Ash Bark
10g Ginger Root
10g Hawthorn Berry
10g Cayenne Pepper
This should make approximately 100 capsules.
Dosage:
Two capsules three times a day.
DISCLAIMER: THIS WEBSITE DOES NOT PROVIDE MEDICAL ADVICE
The information, including but not limited to, text, graphics, images and other material contained on this website are for informational purposes only. The purpose of this website is to promote broad consumer understanding and knowledge of various health topics. It is not intended to be a substitute for professional medical advice, diagnosis or treatment. Always seek the advice of your physician or other qualified health care provider with any questions you may have regarding a medical condition or treatment and before undertaking a new health care regimen, and never disregard professional medical advice or delay in seeking it because of something you have read on this website.