Summary and Pharmaceutical Comment
Food Use Jamaica dogwood is characterised by various isoflavone constituents, to which the antispasmodic properties described for the wood have been attributed. In addition, sedative and narcotic activities have been documented following preclinical studies, thus supporting the reputed herbal uses. However, there is a lack of clinical research assessing the efficacy and safety of Jamaica dogwood. Although Jamaica dogwood is reported to be of low toxicity in various animal species, it is also documented as toxic to humans. In view of this, excessive use of Jamaica dogwood and use during pregnancy and lactation should be avoided.

Species (Family)
Piscidia piscipula L. Sarg. (Leguminosae)
Synonym(s)
Erythina piscipula L., Fish Poison Bark, Ichthyomethia communis S.F. Blake, I. piscipula (L.) Hitchc., I. piscipula (L.) Hitchc., var. typica Stehle & L. Quentin, P. inebrians Medik, P. erythina L., P. toxicaria Salisb., Robinia alata Mill., West Indian Dogwood
Part(s) Used
Root bark
Constituents
The following is compiled from several sources, including General References G6 and G40.
Acids Piscidic acid (p-hydroxybenzyltartaric) and its mono and diethyl esters, (1) fukiic acid and the 3 0 -O-methyl derivative; malic acid, succinic acid, and tartaric acid.
Isoflavonoids Ichthynone, jamaicin, piscerythrone, piscidone and others. Milletone, isomillettone, dehydromillettone, rotenone and sumatrol (rotenoids), and lisetin. (2–5)
Glycosides Piscidin, reported to be a mixture of two compounds, saponin glycoside (unidentified).
Other constituents Alkaloid (unidentified, reported to be from the stem), resin, volatile oil 0.01%, b-sitosterol, tannin (unspecified).
Food Use
Jamaica dogwood is stated by the Council of Europe to to be toxicologically unacceptable for use as a natural food flavouring.
Herbal Use
Jamaica dogwood is stated to possess sedative and anodyne properties. Traditionally, it has been used for neuralgia, migraine, insomnia, dysmenorrhoea, and specifically for insomnia due to neuralgia or nervous tension.
Dosage
Dosages for oral administration (adults) for traditional uses recommended in older and contemporary standard herbal and/or pharmaceutical reference texts are given below.
Dried root bark 1–2 g as a decoction three times daily.
Liquid extract daily, 1–2 mL (1 : 1 in 30% alcohol) three times
Liquid Extract of Piscidia (BPC 1934) 2–8 mL.
Pharmacological Actions
In vitro and animal studies Results of early studies reported Jamaica dogwood to possess weak cannabinoid and sedative activities in the mouse, guinea-pig and cat. In addition, in vitro antispasmodic activity on rabbit intestine, and guinea-pig and rat uterine muscle were noted and in vivo utero-activity in the cat and monkey were documented. In some instances, in vitro antispasmodic activity was found to be comparable to, or greater than, that observed for papaverine.
More recent work has supported these findings and reported that the antispasmodic activity of Jamaica dogwood on uterine smooth muscle is attributable to two isoflavone constituents, one being equipotent to papaverine.
Jamaica dogwood extracts have also been documented to exhibit antitussive, antipyretic, and anti-inflammatory activities in various experimental animals.
Rotenone is an insecticide that has been used in agriculture forthe control of lice, fleas, and as a larvicide. Jamaica dogwood has been used extensively throughout Central and South America as a fish poison; the wood contains two piscicidal principles, rotenone and ichthynone.
Rotenone has reportedly exhibited anticancer activity towards lymphocytic leukaemia and human epidermoid carcinoma of the nasopharynx
Clinical studies
There is a lack of clinical research assessing the effects of Jamaica dogwood and rigorous randomised controlled clinical trials are required.
Side-effects, Toxicity
There is a lack of clinical safety and toxicity data for Jamaica dogwood and further investigation of these aspects is required.
Symptoms of overdose are stated to include numbness, tremors, salivation and sweating.
Jamaica dogwood has been found to be toxic when administered parenterally to rats and rabbits, but non-toxic when given orally, with doses exceeding 90 g dried extract/kg tolerated. An LD 50 (mice, intravenous injection) of an unidentified saponin constituent has been reported as 75 mg/kg body weight. Oral doses of up to 1.5 mg/kg were stated to have no effect. Jamaica dogwood is stated to be irritant and toxic to humans. Rotenone is documented to be carcinogenic.
Contra-indications, Warnings
None documented. However, in view of the available information, Jamaica dogwood should be used with caution. Drug interactions None documented. However, the potential for preparations of Jamaica dogwood to interact with other medicines administered concurrently, particularly those with similar or opposing effects, should be considered. There is limited evidence from preclinical studies that Jamaica dogwood has sedative activity.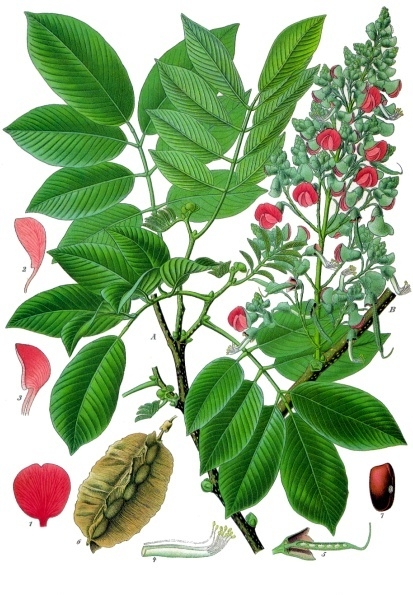 This article is copyrighted by Ital is Vital, 2020. Want to re-post this article? Visit our guidelines.
DISCLAIMER: THIS WEBSITE DOES NOT PROVIDE MEDICAL ADVICE
The information, including but not limited to, text, graphics, images and other material contained on this website are for informational purposes only. The purpose of this website is to promote broad consumer understanding and knowledge of various health topics. It is not intended to be a substitute for professional medical advice, diagnosis or treatment. Always seek the advice of your physician or other qualified health care provider with any questions you may have regarding a medical condition or treatment and before undertaking a new health care regimen, and never disregard professional medical advice or delay in seeking it because of something you have read on this website.