Boneset – Benefits, Uses & Formula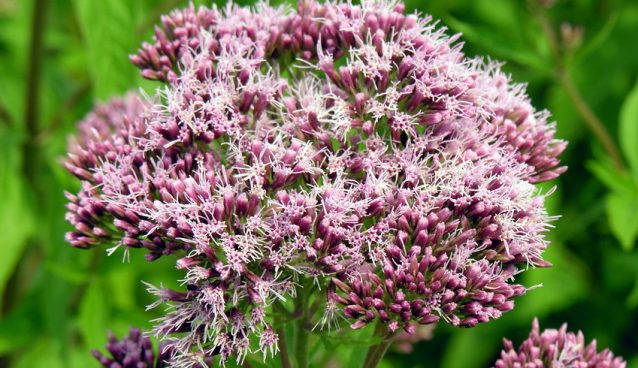 This article is copyrighted by Ital is Vital, 2020. Want to re-post this article? Visit our guidelines.
Latin name: Eupatorium spp.
Family: Compositae.
Common Names: Boneset, Thoroughwort, Teasel, Ague Wood, Joe Pye, Feverwort, Indian Sage, Rheumatism Root, Sweat Plant, Fit Plant.
Habitat: North America (Canada and United States) in damp, swampy places, meadows and banks.
Part(s) Used
The dried leaves and flowering tops.
Therapeutic Properties
Stimulant, nervine, tonic, diaphoretic, anti-periodic, emetic and aperient.
Uses
To prevent or break the chill in intermittent fever, influenza and pneumonia.
Indians gave it the names, ague weed and boneset, because influenza produces a sensation of bone-breaking pain, therefore it was called "bone-break fever," and boneset takes away both the ache and the fever.
This herbal reduces fever by inducing sweating. Boneset was listed in the US Pharmacopoeia and US Dispensatory for decades as the standard treatment for influenza.
Native Americans and pioneers both used a tea made of the aerial parts of the dried plant to treat colds and malaria.
Boneset probably got its name because of its ability to ease the severe muscle and joint pains of breakbone fever, which is known now to be a non-fatal mosquito-borne viral disease that causes high fever and rash and that also is known as dengue fever.
Infusion of Boneset
Ingredients:
1 ounce Boneset Herb (cut)
1 1/4 pints distilled water
Instruction
Boil the water, and while boiling pour over the Herb; cover and steep in a hot place for 20 minutes.
Strain, cool, bottle and keep in a cool place.
Dose: 1 wineglassful 3 or 4 times a day. For colds and fevers, 1/2 to 1 teacupful, hot and sweetened with honey. This should be given every hour, until the patient perspires freely, and the fever begins to subside. The patient should be in bed, and well covered, and remain there for 24 to 48 hours, or until all signs of fever are gone. In bilious colic, give a wineglassful every half hour, until vomiting results; then wait one hour, and give in smaller doses every 2 or 3 hours.
For children, the dose is from a teaspoonful to a tablespoonful, according to age, given in honey, with equal parts of the honey and the infusion. Boneset is a remedy that cleanses the stomach, liver, bowels, and skin, and is quite harmless.
Use of Boneset in large doses may damage the liver and kidneys or lead to internal hemorrhage.
Boneset – Aerial parts
Reference(s)
Elementary Treatise in Herbology by Dr. Edwards Shook
Indiana Medical History Museum – Guide to the Medicinal Plant Garden

DISCLAIMER: THIS WEBSITE DOES NOT PROVIDE MEDICAL ADVICE
The information, including but not limited to, text, graphics, images and other material contained on this website are for informational purposes only. The purpose of this website is to promote broad consumer understanding and knowledge of various health topics. It is not intended to be a substitute for professional medical advice, diagnosis or treatment. Always seek the advice of your physician or other qualified health care provider with any questions you may have regarding a medical condition or treatment and before undertaking a new health care regimen, and never disregard professional medical advice or delay in seeking it because of something you have read on this website.