Scientific Name: Momordica charantia L. (Momordica balsamina)
Other Names: FG Creole: Sorossi; Guyana: Baan-caryla, Carailli, Caryla, Coraila, Wild Caryla; Surinam Creole: Boes-sopropo, Sopropo, Wilde sopropo; Surinam Javan: Pare; Guyana Patamona: Carilla bush.
Constituent:
Contains anti-leukemic, estrogenic and hypoglycemic substances. Seed contains abortifacient substances, as well as the glucosidic steroid charantine which has an insulin-like hypoglycemic activity, and the oncostatic drug momordin.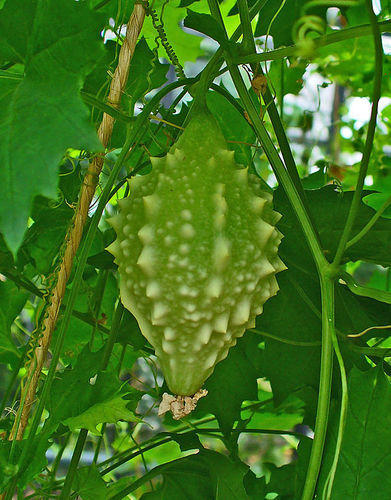 Action:
Abortifacient (Abortion), Anthelmintic, Antidiabetic, Antiseptic, Biliousness, Bitter Tonic (Bitters), Blood Cleanser (Blood Purifier), Cancer, Febrifuge, Fever, Hypoglycemic (Blood-Sugar Reducer), Itches, Malaria (Antimalarial; Malarial Fever), Scabies, Sores (Infected Sores and Wounds), Stomach Cramps and Dis-eases (Acidity; Dyspepsia; Stomachache; Stomachic), Ulcers (also Cancerous Ulcers), Vermifuge (also Anthelmintic; Intestinal Worms; Parasitic Worms), Vulnerary (Infected Sores and Wounds; Wounds).
Medicinal Uses:
Whole plant: In Jamaica the plant is used for mentrual pain, stomache, to support cleansing, for parasites and worms and digestive health.
The plant is boiled, and the water is used as a tonic and anti-diarrheal, by the Guyana Patamona. Plant is boiled and a pinch of table salt is added to the water, which is drunk to treat biliousness, by the Guyana Patamona.
Stem, Leaf and Fruit: Decoction is used for diabetes, cancer, external ulcers and sores, and as a bitter tonic.
Stem and Leaf: The dried leaves and stems are boiled and the water drunk as an anti-diabetic, as an anti-hypertensive or as a treatment for biliousness, by the Guyana Patamona.
Leaf: Used in an antiseptic bath for children; infusion is febrifuge; juice in a vermifuge infusion, also drunk for malaria, other fevers and biliousness. Cooked as a children's anthelmintic, and for scabies or itch. Infusion for stomach cramps. In Guyana, leaves used in a tea for cleansing the blood. Leaves are boiled, and the water drunk as an anti-hypertensive, as an anti-diabetic or to purify the blood, by the Guyana Patamona. Leaves are boiled and the water used as an antidiuretic, by the Guyana Patamona. Used to treat malaria in NY Guyana. Leaf and Flower: Flowers and young leaves are boiled, and the water drunk as a medication for hepatitis, by the Guyana Patamona.
Fruit: Anti-diabetic. Mixed with almond oil for a vulnerary. Fruit is eaten by Chinese and East Indians in French Guiana.
Combinations
The Jamaican Cerasee is used on it's own are in combination with other herbs to assist with some health issues:
Momordica charantia is boiled with Leonotis nepetifolia, Hyptis pectinata, and Mikania micrantha as a wash for piles.
In Guyana, Momordica charantia is often boiled with Unxia camphorata, Lepidaploa remotiflora, and Irlbachia alata.
Momordica charantia is boiled with Tripogandra serrulata ("red" plant), Scoparia dulcis and the liquid is drunk as a purgative;
Effectiveness of Antihyperglycemic Effect of Momordica charantia: Implication of T-Cell Cytokines
3707046

Antibacterial and Antiproliferative Activities of Plumericin, an Iridoid Isolated from Momordica charantia Vine
823178

Antiaging of Cucurbitane Glycosides from Fruits of Momordica charantia L.
1538632

Antioxidative and Antimelanogenesis Effect of Momordica charantia Methanol Extract
5091534

The Effect of Momordica charantia in the Treatment of Diabetes Mellitus: A Review
3796265

References
3. Lachman-White, D.A., Adams, C.D. and U.O. Trotz. 1987. A Guide to the Medicinal Plants of Coastal Guyana. 350 pp. London: Commonwealth Science Council.
61. Ng, T.B., Wong, C.M., Li, W.W. and H.W. Yeung. 1986. Insulin-like molecules in Momordica charantia seeds. Journal of Ethnopharmacology 15(1): 107-117.
62. Welihinda, J., Karunanayake, E.H., Sheriff, M.H.R. and K.S.A. Jayasinghe. 1986. Effect of Momordica charantia on the glucose tolerance in maturity onset diabetics. Journal of Ethnopharmacology 17(3): 277-282.