Spring is here and there is no doubt you will see the stinging nettle herb (Urtica dioica L.) springing up (no pun intended) just about everywhere, especially as the climate gets warmer and we experience more of the sun.
What better time to begin incorporating it into your diet and reap the tremendous benefits of this herb.
The Stinging nettle has been proven to help with eczema, benign prostatic hyperplasia (BPH), arthritis, joint pains, hayfever, urinary problems and is traditionally used to alleviate many more health issues. In addition, the Stinging Nettle is a highly nutritive plant, containing vitamin A, calcium, potassium, magnesium and iron. As such, it is often used to address iron deficiency anaemia. You could add it to your soups, and tonics, make capsules, tinctures, teas or a tasty nutritive beverage.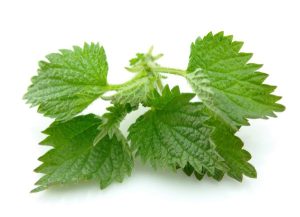 Stinging Nettle Beverage
Ingredients
5 tablespoons of dried nettle leaves
1 key lime
1 litre of water
Direction
1. Boil water in a pot or kettle.
2. Turn off the pot as water boils, add the stinging nettle and cover. If you boiled water in a kettle add the sting nettle in a glass jar and cover.
3. Let it infuse for 7 to 10 minutes.
4. Add the juice of 1 key lime.
5. You may chill and have it like this or add some date sugar or stevia to your taste.
You may also combine Stinging nettle with other herbs to make iron tonics and capsules including burdock root, yellow dock, sarsaparilla, dandelion and red clover.
Caution
When picking stinging nettles in the wild, always wear a thick pair of gloves so you do not get stung.
Video: 10 Uses of Stinging Nettle
Video: Identify Stinging Nettle
Please also check out the tonic recipes.