Plantain Herbal Formula (Ulcers, Bleeding, Cancer Etc.)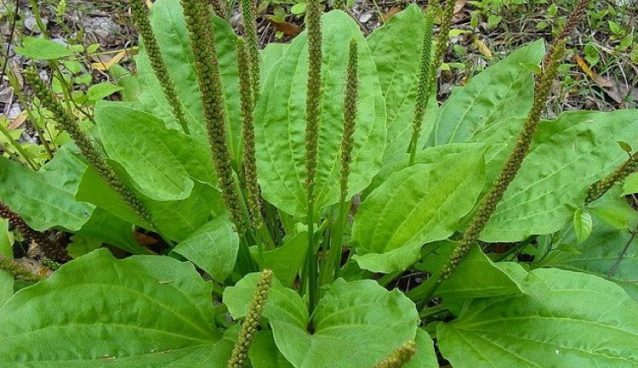 Infusion of Plantain
Ingredients:
1 oz. Plantain leaves (cut)
1¼ pints distilled water
Instruction:
1. Boil the water.
2. Pour the boiling water over the herb.
3. Cover and let steep in a hot place for 20 minutes.
4. Strain; add 2 ozs. glycerine.
5. Cool and bottle.
Dose:
1 wineglassful 3 or 4 times a day. Children less, according to age.
Use:
Apply to malignant ulcers, especially of the bleeding type, apply on well-saturated cotton or thick lint, and cover, changing as often as necessary. This formula is refrigerant, diuretic, deobstruent, antiseptic, astringent and vulnerary.
Other Plantain Application
Fresh Plantain: Carefully wash fresh Plantain leaves, pulp (you may use a mortar and pestle), and apply directly to lesions.
Eye injuries: Bathe with tea Plantain tea.
General uses: In general plantain formulas may be used (on its own or in combination with other herbs) for abrasions, abscesses, allergies, catarrhs, black-eyes, haemorrhages, lupus arthritis, boils, breast inflammation, bronchitis, cachexia, cancers, bunions, cystitis, osteoporosis, muscle dystrophy, liver injuries, nettle-rash, Marfan's syndrome, hypoparathyroidism, swollen glands, hay fever, mouth sores and more.
References
Advanced Treatise in Herbology by Edward Shook
Bartram's Encyclopedia of Herbal Medicine by Thomas Bartram