Hawthorn berries act on the heart muscles in such a manner as to contract and strengthen them. Hawthorn is considered a remarkable cardiac tonic. It directly affects the cells of the heart muscle, enhancing both activity and nutrition.2
CRATAEGUS (Hawthorn)3
BERRIES, FLOWERING BRANCHES. Tincture [Fresh Plant, 1:2, Dry Berries, 1:5, 60% alcohol] 10-30 drops, to 3X a day.
COLD INFUSION: (Berries) 1-2 ounces, to 2X a day.
TEA: Leaves and flowers. 1-2 teaspoons to each cup boiling water; infuse 5-10 minutes. Dose: 1 cup.
DECOCTION: Fruits (Berries). 1-2 heaped teaspoons to each cup water; simmer gently 2 minutes. Dose: 1/2 -1 cup.
TABLETS/CAPSULES: Two 200-250mg.
LIQUID EXTRACTS: 8-15 drops in water.
TINCTURE: 1:5 in 45 per cent alcohol, dose: 15-30 drops (1-2ml).
Popular combinations:–
With Mistletoe and Valerian (equal parts) as a sedative for nervous heart.
With Lily of the Valley 1; Hawthorn berries 2; for cardiac oedema.
With Lime flowers, Mistletoe and Valerian (equal parts) for high blood pressure.
With Horseradish or Cayenne, as a safe circulatory stimulant.
A strong decoction of hawthorn berries and motherwort is recommended for heart failure.1
Gradual onset of action. Low incidence of side-effects. No absolute contra-indications.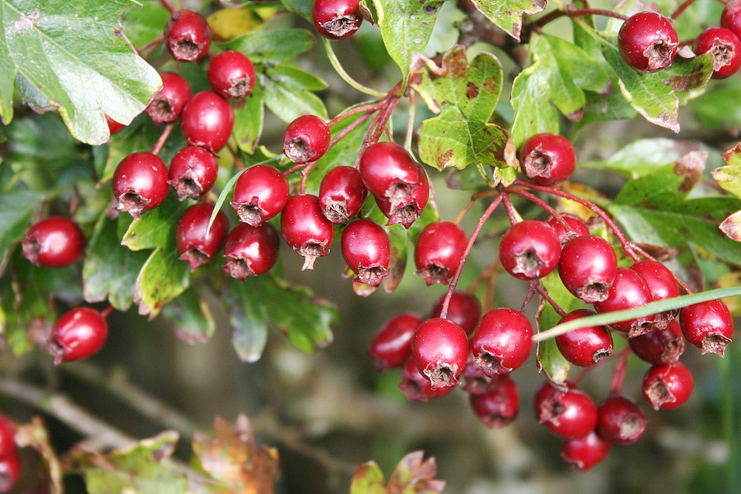 Reference(s)
1. Advanced Course in Herbology Dr. Edward Shook Copyright 1974 by George Cervilla
2. The herbal Medicine-maker's Handbook: aA Home Manual / by James Green
3. Bartram's Encyclopedia of Herbal Medicine by Thomas Bartram