Summary
Latin Name: Inula helenium
Common Name: Elf dock, scabwort, Velvet dock, Aunee
Family: Compositae
Habitat: It is found growing wild throughout Europe, Asia, North America and Canada.
Therapeutic Properties
Expectorant, alterative, antiseptic, astringent, tonic, diaphoretic, stimulant, diuretic, anti-spasmodic, emmenagogue, tonic.
Medicinal Uses
For catarrh, coughs, shortness of breath, wheezing, bronchitis, asthma, tuberculosis, cystitis, skin diseases, and every form of inflammation. This is one of Nature's greatest remedies, and has been used for tuberculosis, dropsy, asthma, etc., from very ancient times.
Elecampane is a constitutional treatment for general catarrhal conditions such as chronic pulmonary affections that have symptoms of cough, shortness of breath, wheezing in the lungs; a specific for whooping cough in children, diseases of the breast, malignant fevers, hepatic torpor, dyspepsia, and the feeling of stitches in the side caused by the spleen.
The large amount of natural inulin contained in this well-known root strengthens, cleanses, and tones the pulmonary and gastric membranes, encouraging a more harmonious metabolism by assisting the pancreas; it is valued in incipient tuberculosis. Culpeper also used elecampane for intestinal worms, retention of water, to lessen tooth decay, and for firming the gums. A personal opinion, but one which we believe to be true, is that inulin decreases excessive sugar in the blood—and sugar causes tooth decay.
Its history dates back to 1000 years before the Christian Era, and modern investigation has shown it to be of great value in all pulmonary and catarrhal diseases.
Parts Used
The root.
Solvents: Alcohol, water (partial solvent).
Herbal Formulas
Decoction of Elecampane
Ingredients:
2 ounces elecampane (cut)
1 quart distilled water
Directions:
Put the Herb into the water and let it stand for 2 hours. Bring to boil and simmer for 30 minutes, covered. Strain, then return liquid to the saucepan and simmer until it is reduced to 3/4 pint. Add 4 ounces pure glycerine. Let cool, bottle and keep in a cold place. Honey is a soothing and healing balm for children, and should be given freely to those with a tendency to catarrh. When making the formula especially for children, substitute 6 or 7 ounces honey for the glycerine.
Dose:
1 tablespoonful in an equal amount of water 3 or 4 times a day, between meals. Children, 1 teaspoonful or more according to age, given in honey water.
Elecampane may be given in much larger doses in cases of chronic lung trouble; up to a teacupful. In all such cases, DO NOT ADD THE GLYCERINE. Make up the decoction fresh each day. When glycerine is used in a formula, the proportion should be a teaspoonful to a dose, no matter how large the dose.
In order to increase its tonic qualities, and make it slightly laxative, add a teaspoonful of the compound syrup of mandrake at time of taking.
To produce free perspiration, make the decoction, but leave out the glycerine. While the patient is well covered in bed, give as hot as can be tolerated in 1/2 teacupful doses until the patient perspires freely. Many lives have been saved by this wonderful Herb.
Externally: Poultice or a strong tea is made and used for itching, skin rash, and wounds. Foodstuff: In confectionery to give better aroma, colour, and nutrition.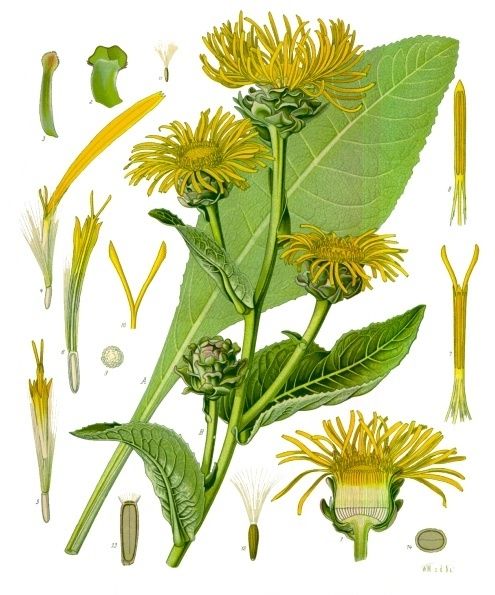 This article is copyrighted by Ital is Vital, 2020. Want to re-post this article? Visit our guidelines.
DISCLAIMER: THIS WEBSITE DOES NOT PROVIDE MEDICAL ADVICE
The information, including but not limited to, text, graphics, images and other material contained on this website are for informational purposes only. The purpose of this website is to promote broad consumer understanding and knowledge of various health topics. It is not intended to be a substitute for professional medical advice, diagnosis or treatment. Always seek the advice of your physician or other qualified health care provider with any questions you may have regarding a medical condition or treatment and before undertaking a new health care regimen, and never disregard professional medical advice or delay in seeking it because of something you have read on this website.