Fucus – Product Description
A natural diuretic. Flushes excess stagnant fluid from the body; removing dead cells and promoting healthy skin. High in magnesium, calcium, phosphate, and other minerals.
Main Ingredient(s)
– Fucus Vesiculosus (Bladderwack)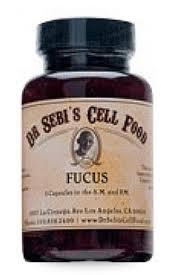 Ingredient(s) Profile
The below is mainly based on the traditional or folk uses of the herb.
Bladderwrack – one of the richest sources of minerals (micro-nutrients) chiefly iodine, sodium, manganese, sulphur, silicon, zinc and copper. It is used as a nutrient, detoxicant, to stimulate the circulation of lymph and endocrine gland. It is anti-hypothyroid, anti-obesic, anti-rheumatic, a blood tonic, adaptogen, laxative, antibiotic and mild diuretic; also lowers blood cholesterol levels. It is hypoglycemic and anti-microbial.
Dosage
2 Capsules in the A.M. & P.M.
This article is copyrighted by Ital is Vital, 2020. Want to re-post this article? Visit our guidelines.
DISCLAIMER: THIS WEBSITE DOES NOT PROVIDE MEDICAL ADVICE
The information, including but not limited to, text, graphics, images and other material contained on this website are for informational purposes only. The purpose of this website is to promote broad consumer understanding and knowledge of various health topics. It is not intended to be a substitute for professional medical advice, diagnosis or treatment. Always seek the advice of your physician or other qualified health care provider with any questions you may have regarding a medical condition or treatment and before undertaking a new health care regimen, and never disregard professional medical advice or delay in seeking it because of something you have read on this website.